EVERYTHING YOU NEED IS INCLUDED
What's in this insurance proposal template
Visually Attractive Cover
As most insurance agents know, the key to grabbing a potential clients' attention is to make a great first impression. That's why the first thing a client sees when the insurance plan proposal lands in their inbox is a visually attractive cover. Our team carefully designed it to have everything you need to wow them the second they open an email. You can change everything from the text, logo, and background image to make it more appealing to your targeted market.
View Template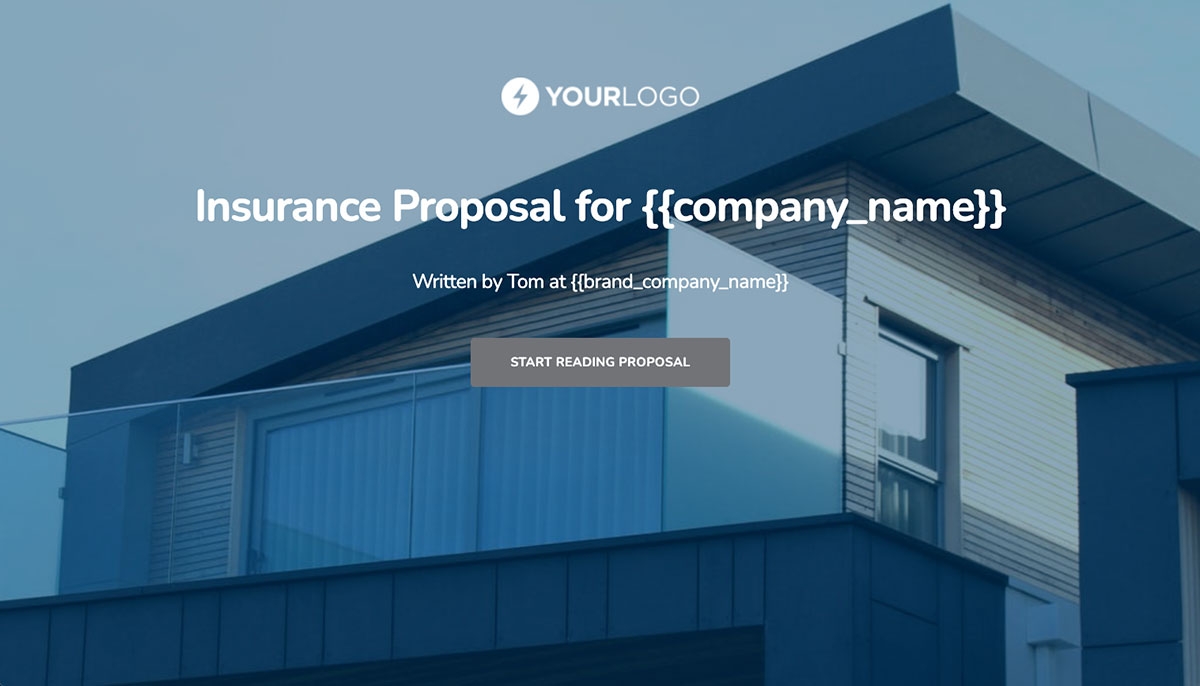 Pre-Written Introduction Section
How to explain to potential customers that what you're offering will be a perfect fit for their needs? Our introduction section is the best way to write a meeting summary and explain that your insurance company has precisely what they're looking for. This sample proposal consists of a pre-written introduction section that is already structured to fit every insurance company's needs. Just add a few specifics, and it's ready to be sent out! Like everything else, it's completely customizable, including the colors, text, images, and layout.
View Template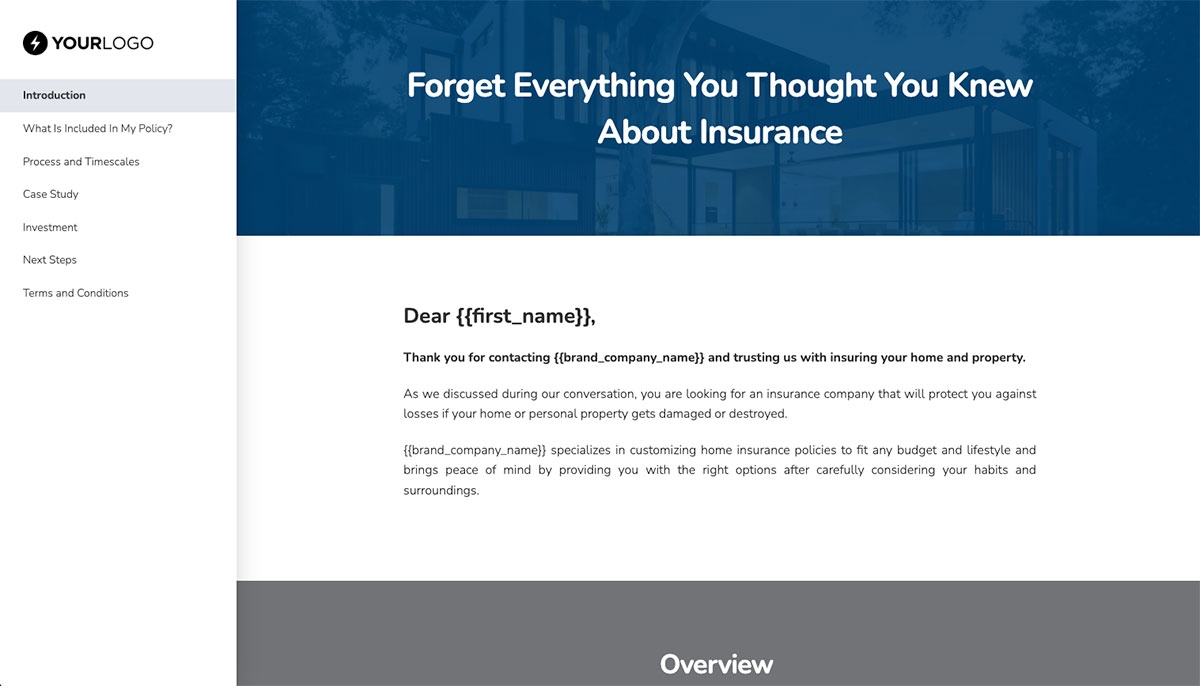 Processes and Timelines
Explaining the sales processes of insurance companies may sound complicated and overwhelming to someone out of the industry. Luckily, our Plan of action section is already made to fit the perfect amount of information. Add some details specific to your company, and it's good to go!
View Template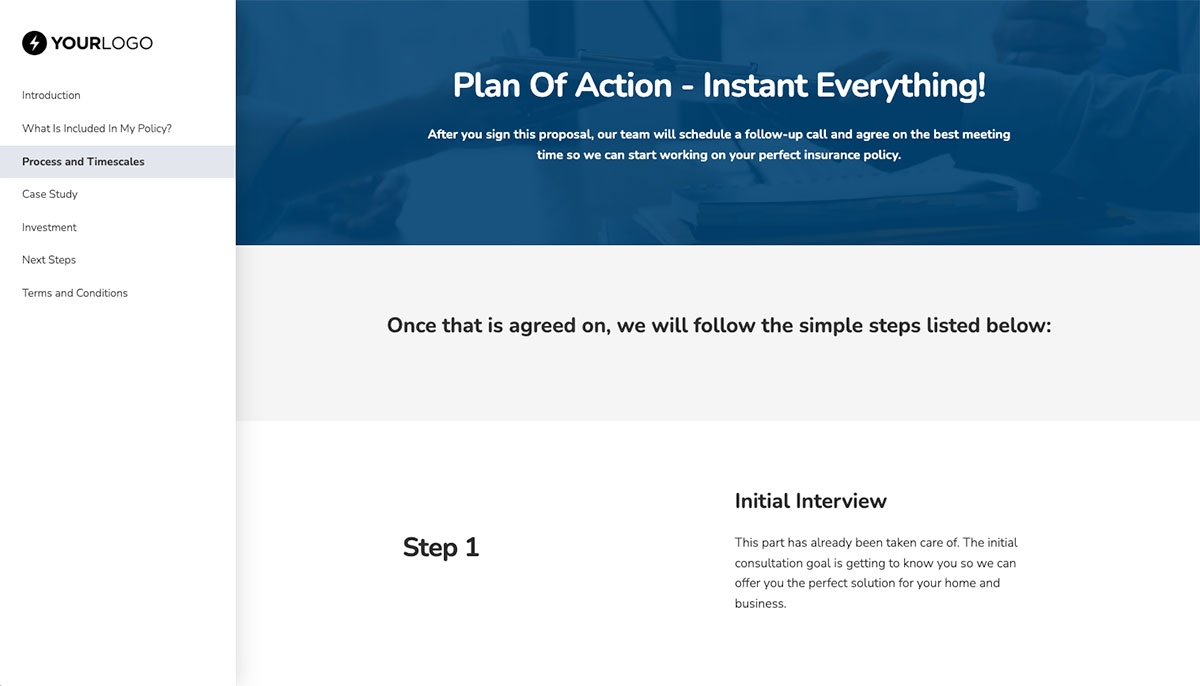 Case Study Example
The best way to introduce yourself as commercial insurance your client needs is through a case study. By sharing a success story you took part in, you will get a perfect opportunity to show you understand precisely what your partners' needs are. In this business insurance proposal template, we've set out an example case study. All you need to do is replace our example with one of yours and use the structure we've used.
View Template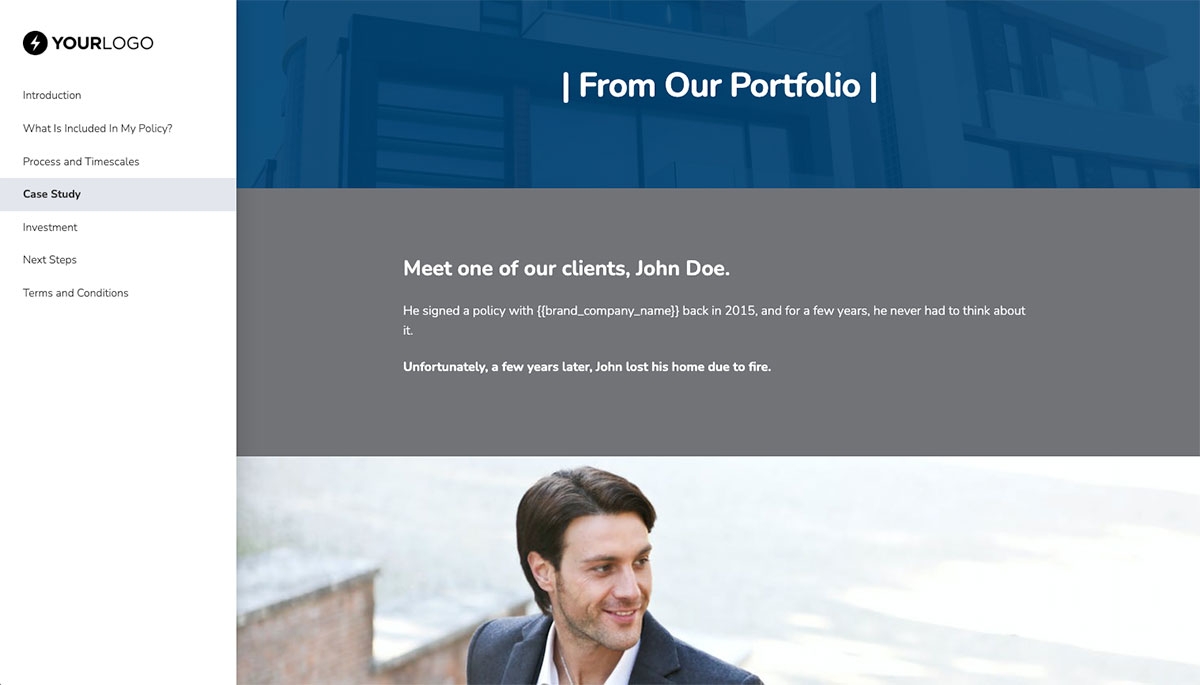 Pricing
Signing the right deals and getting the pricing right in the insurance industry is complex. Luckily, all you have to do using our automatically calculated pricing tables is put the numbers in, type a brief one-line description of the services included, and an essential form in your proposal is done! You can even offer discounts, create packages and have options up-sells, such as additional health insurance plans. Just click on the settings button and adjust it any way you like.
View Template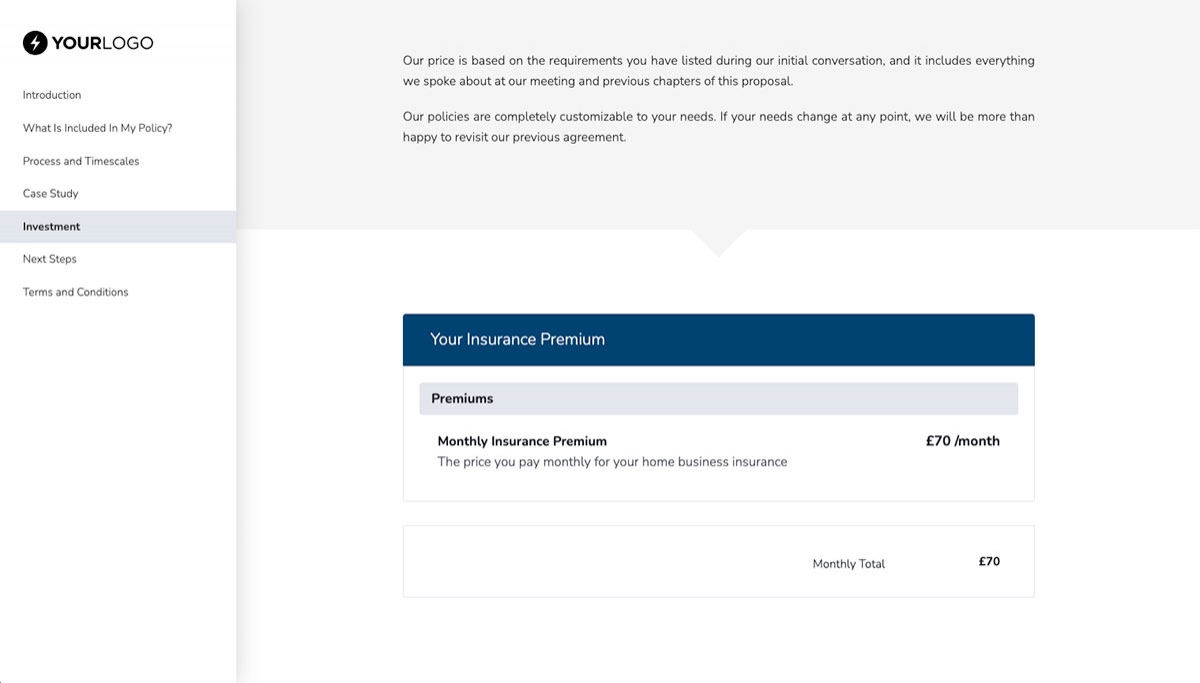 Next Steps with Digital Signing
Insurance agents often don't close deals because the conversation drops and gets lost in numerous emails. This proposal template is designed with a 'Next Steps' page, which you barely have to alter at all. Simply detail the next steps your client will go through and ask them to sign digitally by typing their name and clicking Accept. All digital signatures are 100% legal and compliant. When your client signs, the digital signature certificate will show up in your Better Proposals account.
View Template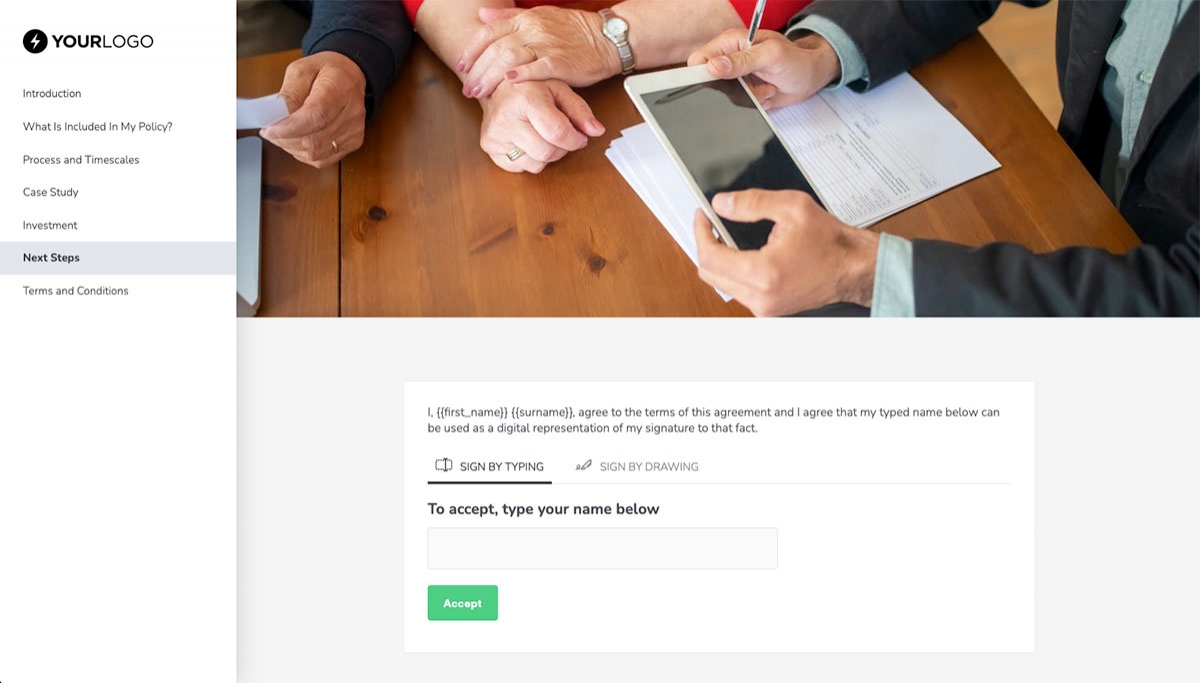 Pre-Written Contract
Whether you're a seasoned professional or new to the business insurance world, Terms and Conditions will probably slip your mind when you're trying to close the deal with a client. To ensure you're still covered, we have added a fully customizable T&C at the end of this template. That said, they may not apply to your business, so we're suggesting getting a legal professional to read them over.
View Template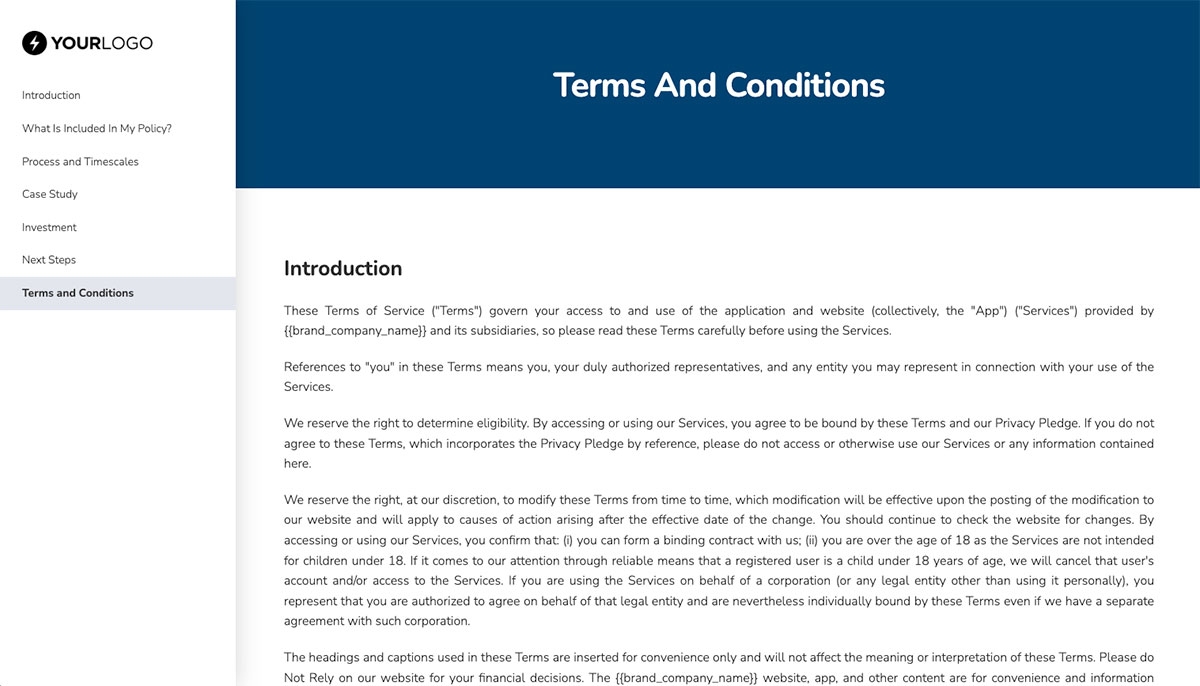 Get Paid Straight from the Proposal
No more messing around with invoices, no more waiting for checks to clear. This proposal template lets you take payments directly from the proposal, using the integrations with PayPal, Stripe, and GoCardless.
View Template