EVERYTHING YOU NEED IS INCLUDED
A look at everything in this Market Research Proposal Template
Stunning Cover
The first thing your client sees when your proposal shows up in their inbox is a nicely designed cover. As a business owner, you understand how hard it is to gain the client's attention, so the goal is to start the proposal with an attention-grabbing image.
You can change everything, from the text, logo, and background image to make it a better fit for your needs.
View Template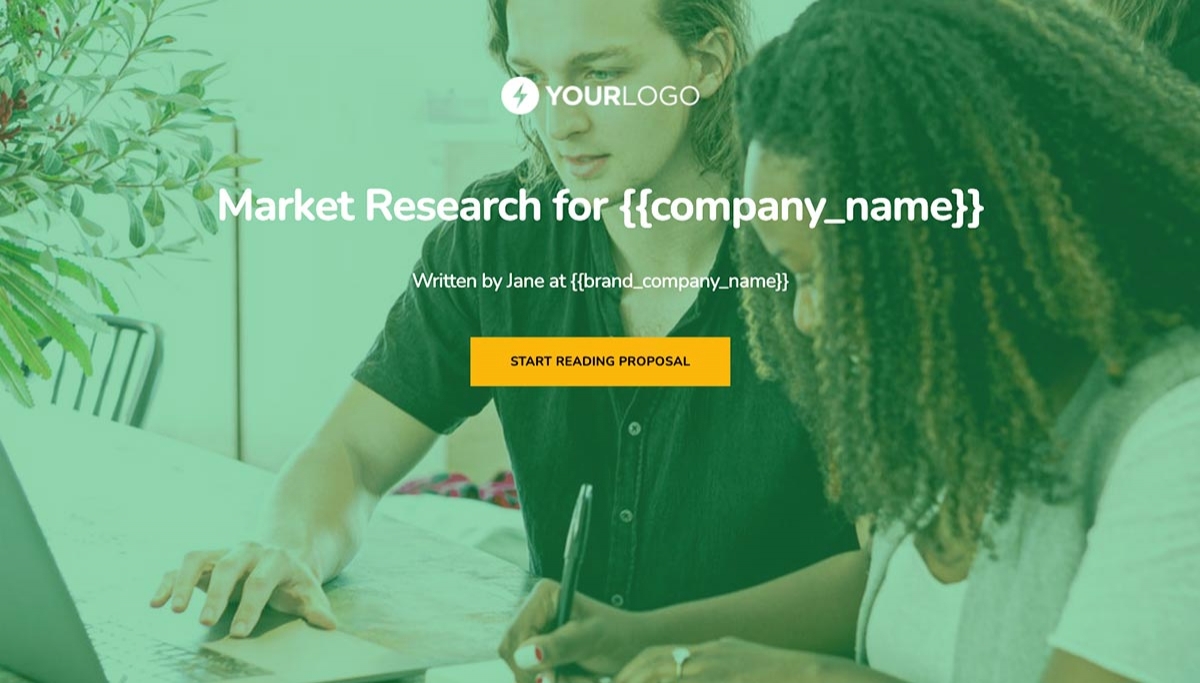 Pre-Written Introduction Section
There is no better way to explain your market research plan to your potential clients than with our pre-written introduction section. It consists of a meeting summary, proposed research that includes everything from social media to focus groups, and a structured breakdown of your services. You just need to add a few client specifics and that's it.
Like everything else in this sample proposal, it's 100% editable - the colors, the text, images, layout - everything.
View Template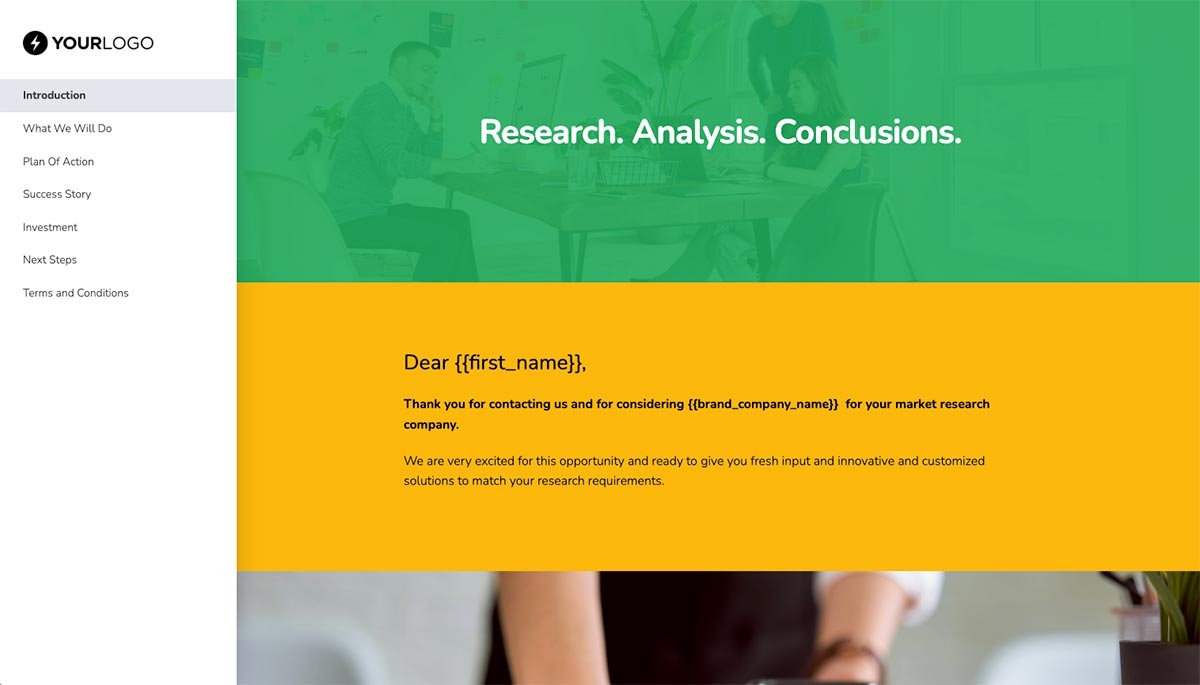 Processes and Timelines
Explaining to the client the structure of each of the market research methodologies you are going to use can be difficult. You want to give enough detail about your data collection methods and how you generally conduct market research but not so much it seems overwhelming.
Fortunately, we created a plan of action already sectioned to fit the amount of information needed to design a perfect proposal. Just make a few adjustments to suit your exact process.
View Template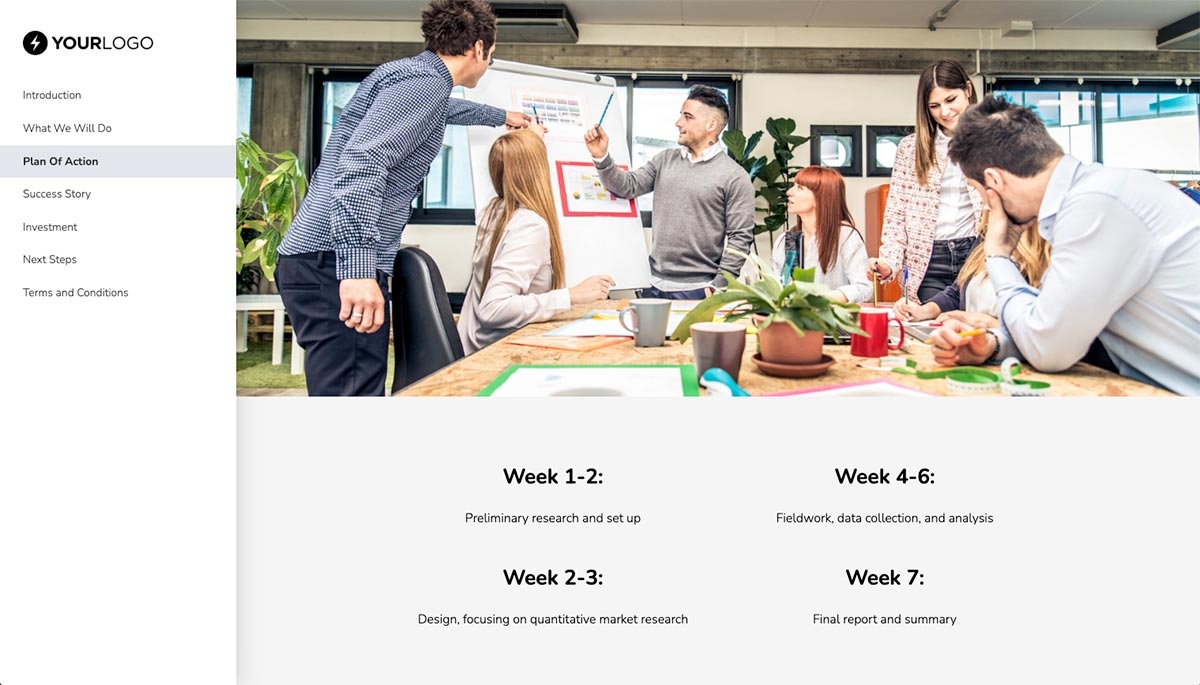 Case Study Example
A client success story is a powerful tool in convincing your clients to close the deal. It gives you the perfect opportunity to show them that you understand their goals and objectives and have a way to make them come true. In this market research proposal template, we've set out an example case study.
All you need to do is replace our example with one of yours and use the structure we've used.
View Template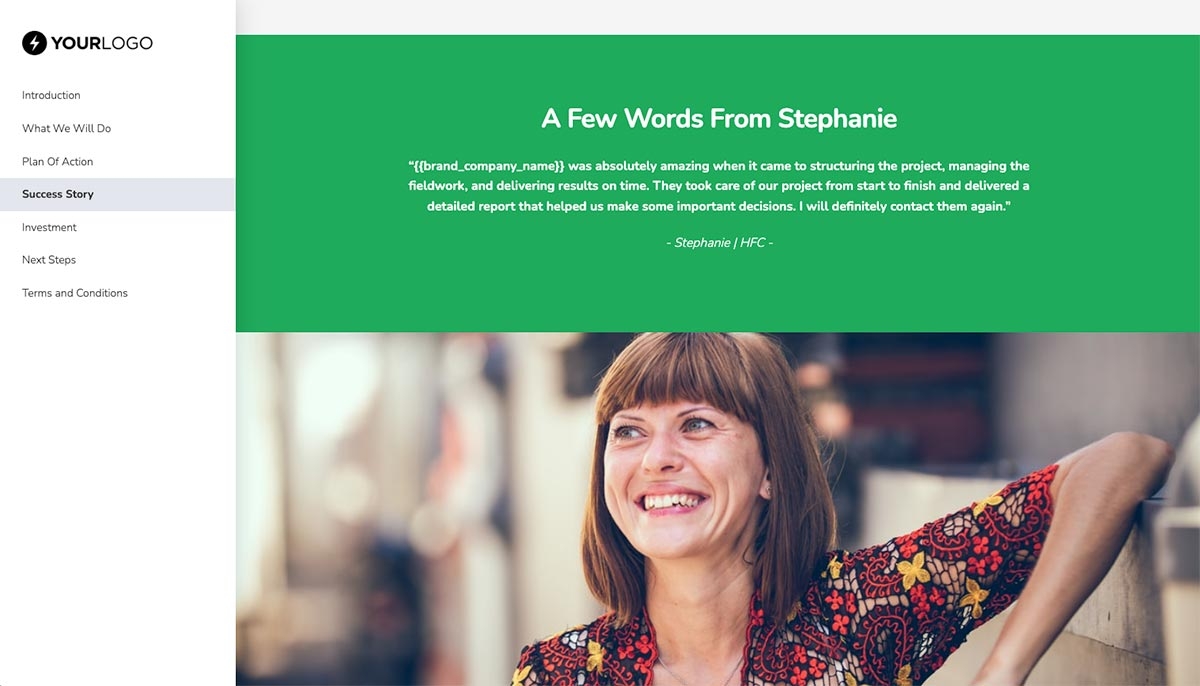 Pricing
No matter if your pricing strategy includes charging hourly, monthly, or optional up-sell services, like special images and videos, you can do it all with this automatically calculated pricing table. The final steps are simple - just enter your numbers and a short description, and both your market research proposal and quotes are ready for your client's eyes.
View Template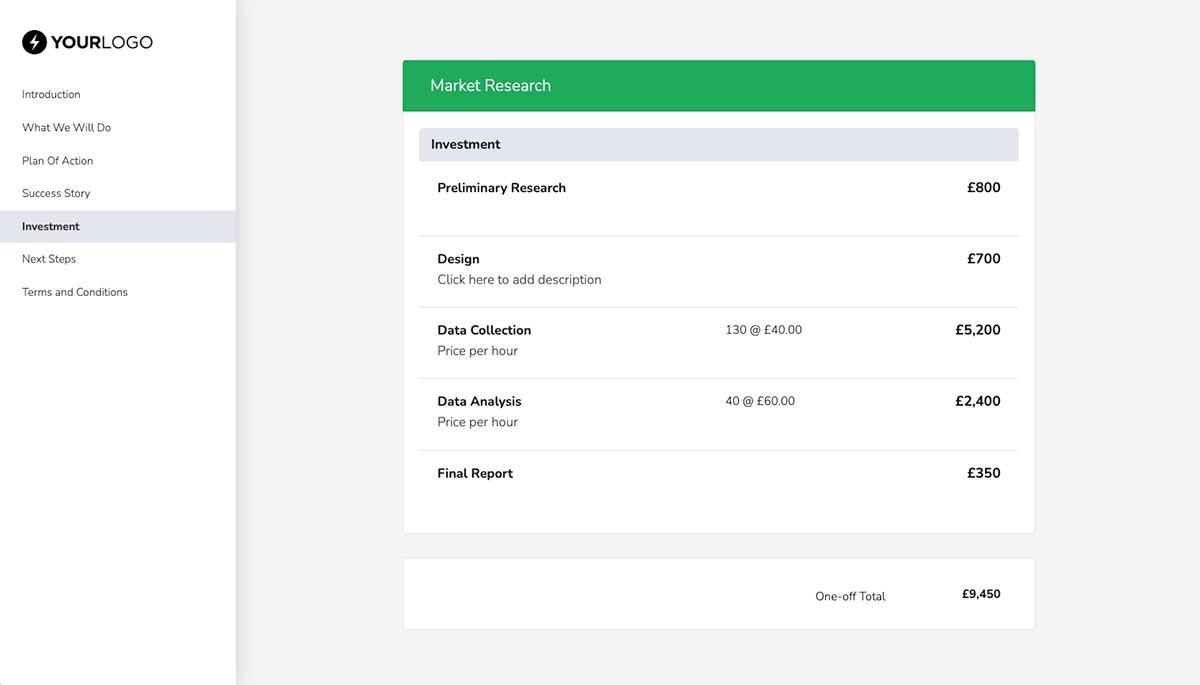 Next Steps with Digital Signing
Any business will eventually be tested in handling increased customer traffic. Lessen the strain of paperwork by choosing a digital signature over traditional mail. The 'Next steps' tab will allow you to explain your process after signing and offer a line for the customer to give their electronic consent.
All digital signatures are legal and compliant. When your client signs, you can see their digital signature certificate in your Better Proposals account.
View Template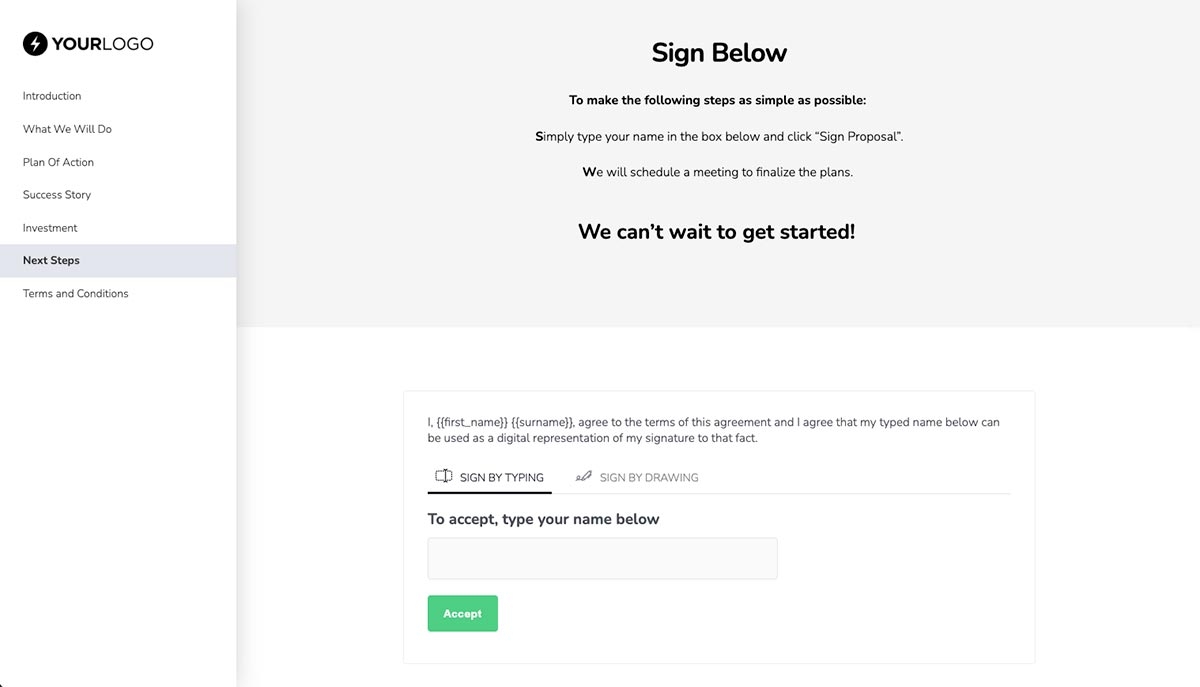 Pre-Written Contract
Whether you're just starting a company or you're a seasoned professional, Terms and Conditions will probably slip your mind when you're discussing some new market research projects. To ensure your business is still protected, we have added fully customizable T&C's at the end of this template.
View Template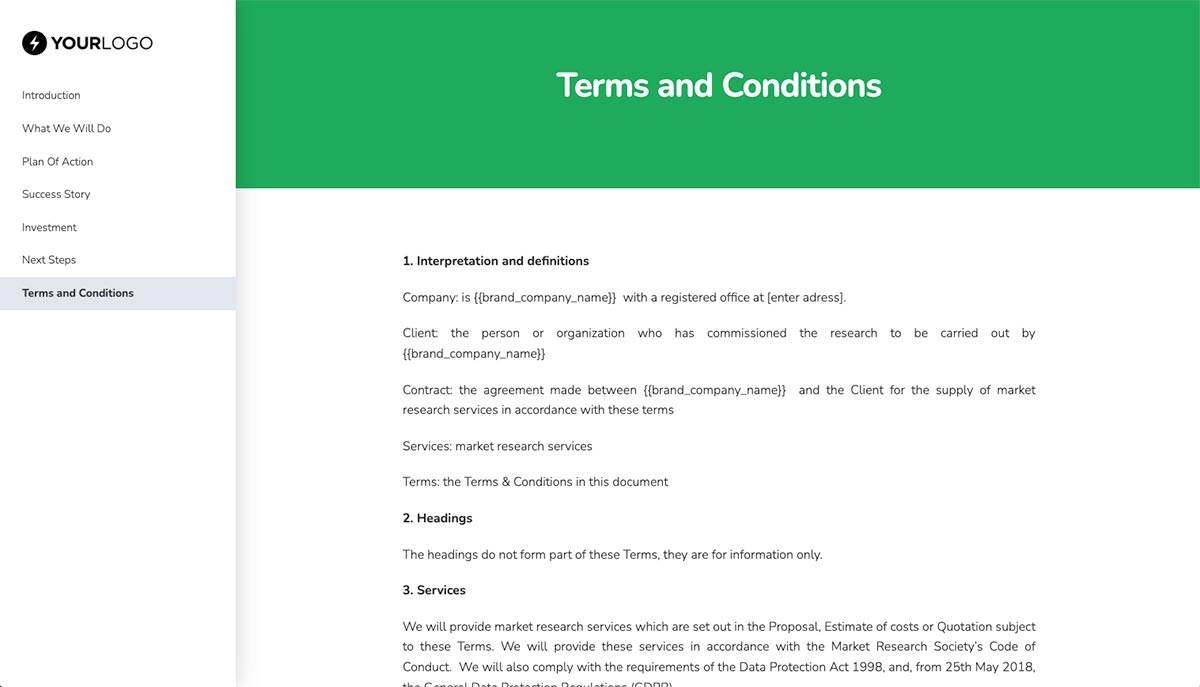 Take Payment from Your Client
Getting paid - it's the hardest thing to do in business. The sooner and the easier you can get that money in your account the better. Using our integrations with Stripe, PayPal and GoCardless you can take payment from your client the moment they sign your proposal and then if needed, start a subscription.
View Template