EVERYTHING YOU NEED IS INCLUDED
A look at everything in thisNetwork Design Proposal Template
Visually Attractive Cover
The best way to attract a client's attention is by a visually attractive cover, as it is the first thing they see when they open your proposal. Before you get into all the technical details, wow your clients with an attention-grabbing image. You can change everything, from the text, logo, and the background image to make it fitter to your needs.
View Template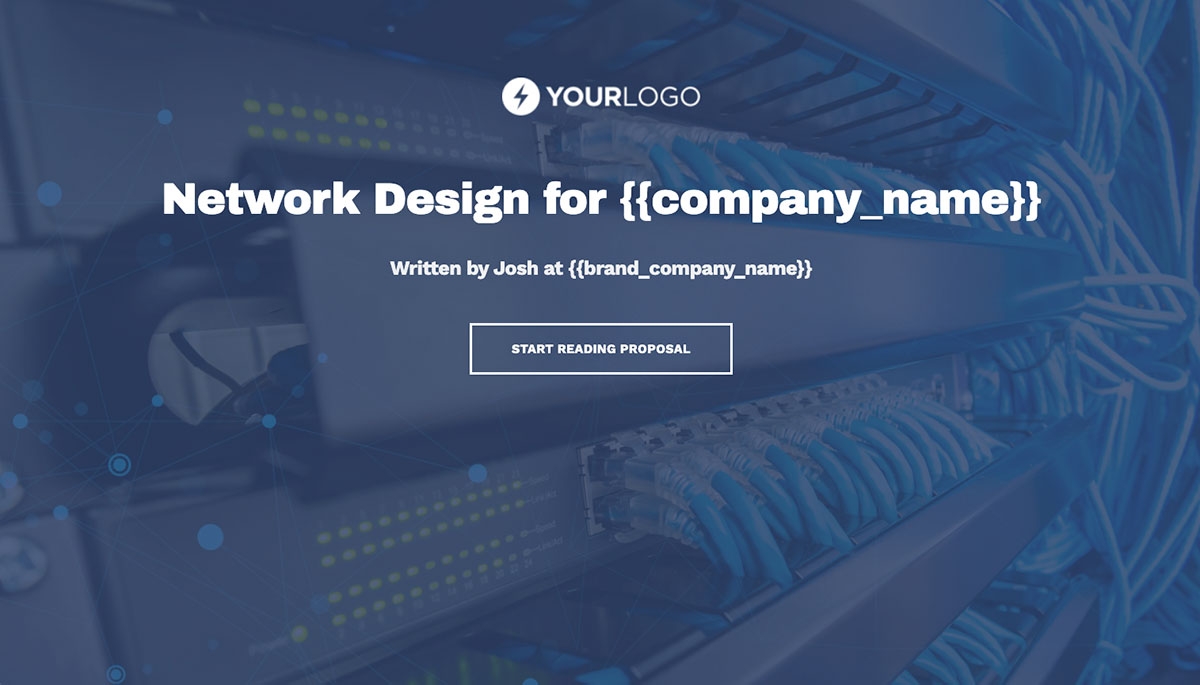 Pre-Written Introduction Section
For an important project like network design, it is crucial to explain to a client everything you had in mind to make it work, along with a recap of your conversation. Luckily, you don't have to stress over how to put it in words, as our pre-written introduction section is already structured for you. You just need to add a few client specifics and that's it. Like everything else in this proposal, it's completely editable - the colors, the text, images, layout - everything.
View Template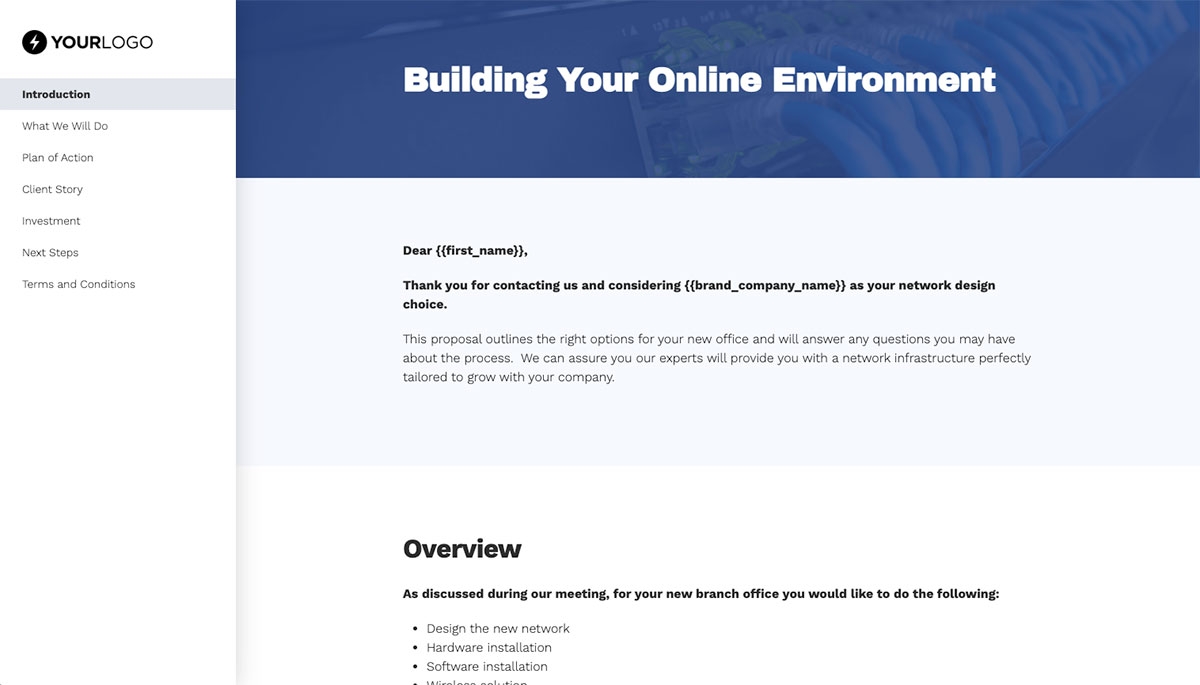 Processes and Timelines
Explaining the setup and implementation to someone out of your industry can be tough. That is why you can rely on our plan of action section, already divided to fit the perfect amount of information, but not too much to seem overwhelming. You can adjust it to suit your exact process.
View Template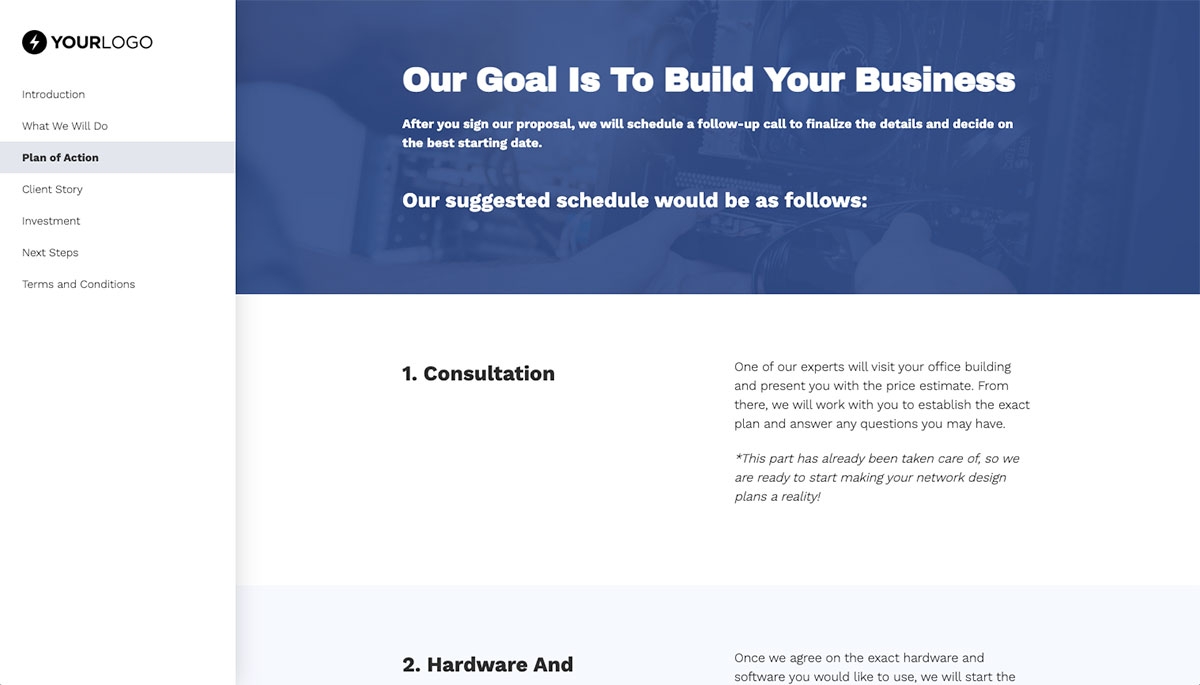 Case Study Example
The best way to present your work to a potential client is by encouraging words from a previous one. If you want to be taken seriously, you need to show that you understood the client's wishes and you came up with a practical solution. In this network design proposal template, we've set out an example case study. All you need to do is replace our example with one of yours and use the structure we've used.
View Template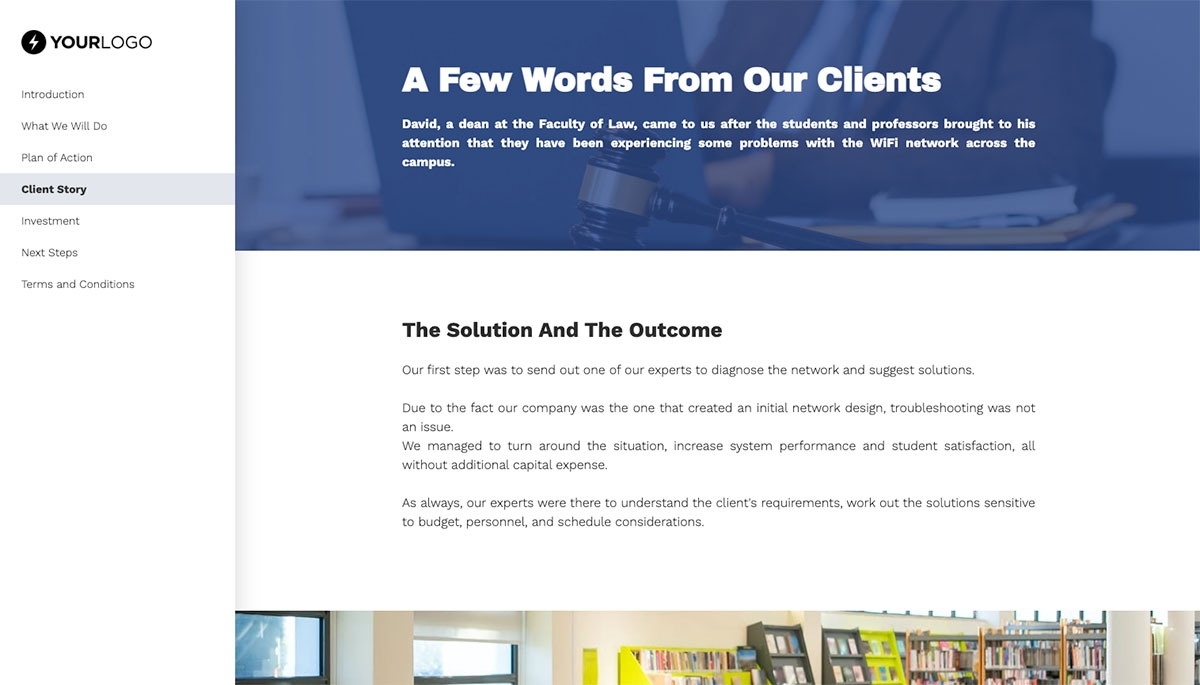 Pricing
Describe your service costs in the best way possible! We have added a quote generator table that totals everything your proposal is offering. There is room to describe your hourly rate, job costs, or any add-ons you find relevant to your customers.
View Template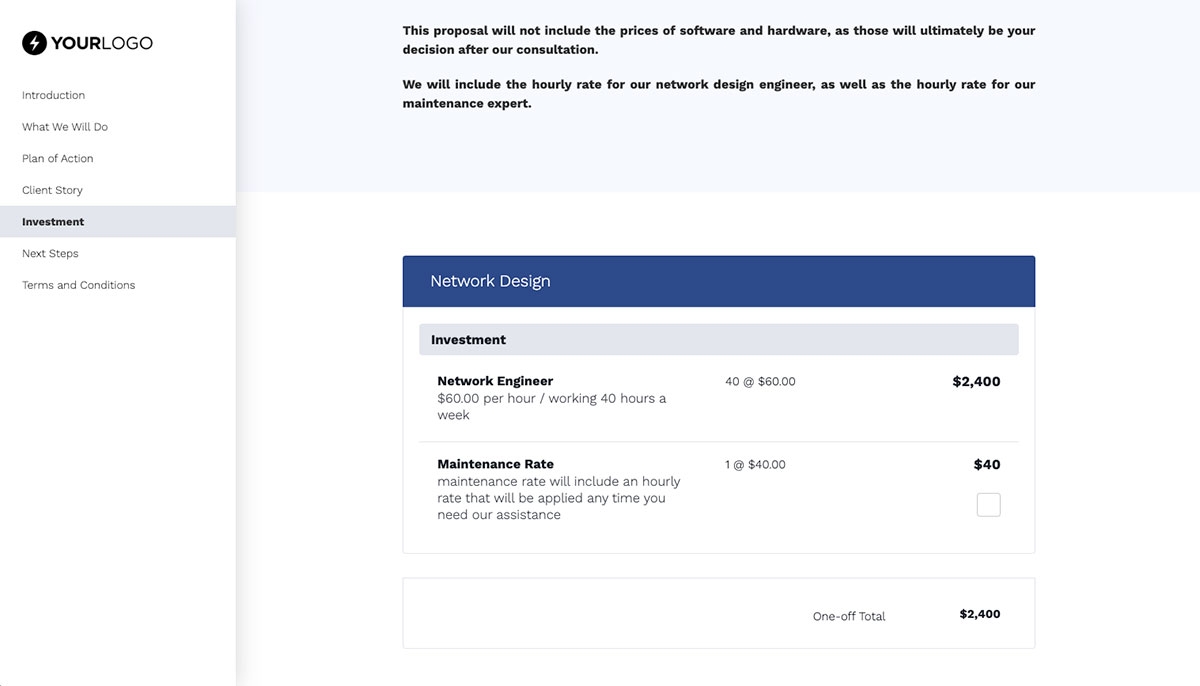 Next Steps with Digital Signing
Once you get a customer on board, the last thing anyone wants is to get buried in slow paperwork. The 'Next steps' page allows you to explain your post-proposal process and enables customers to sign without handling any physical paper transfer. All digital signatures are 100% legal and compliant. Once your client signs, their digital signature certificate will show up in your Better Proposals account.
View Template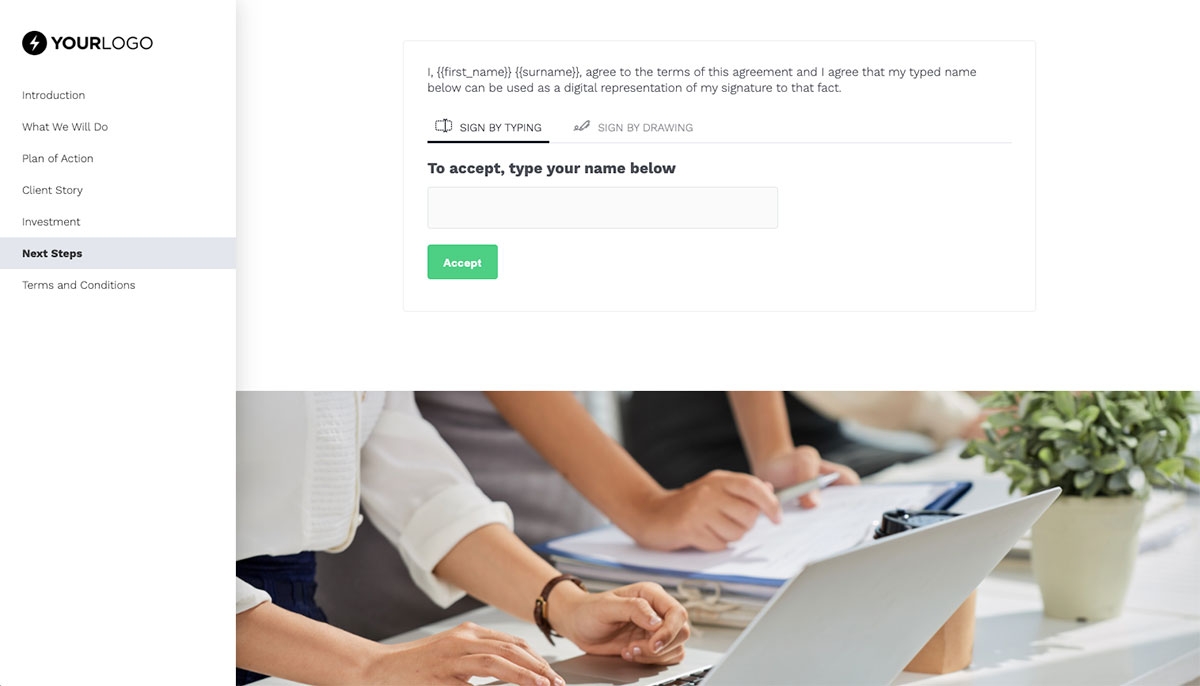 Pre-Written Contract
The best way to protect your network design business is by laying down the ground rules right from the start. For that reason, we have added the Terms and Conditions page to our proposal template, allowing you to customize it to best describe your services. We may not be legal professionals, but if you are not using anything at all, this will be a good stepping stone. That said, get a legal professional to read it over.
View Template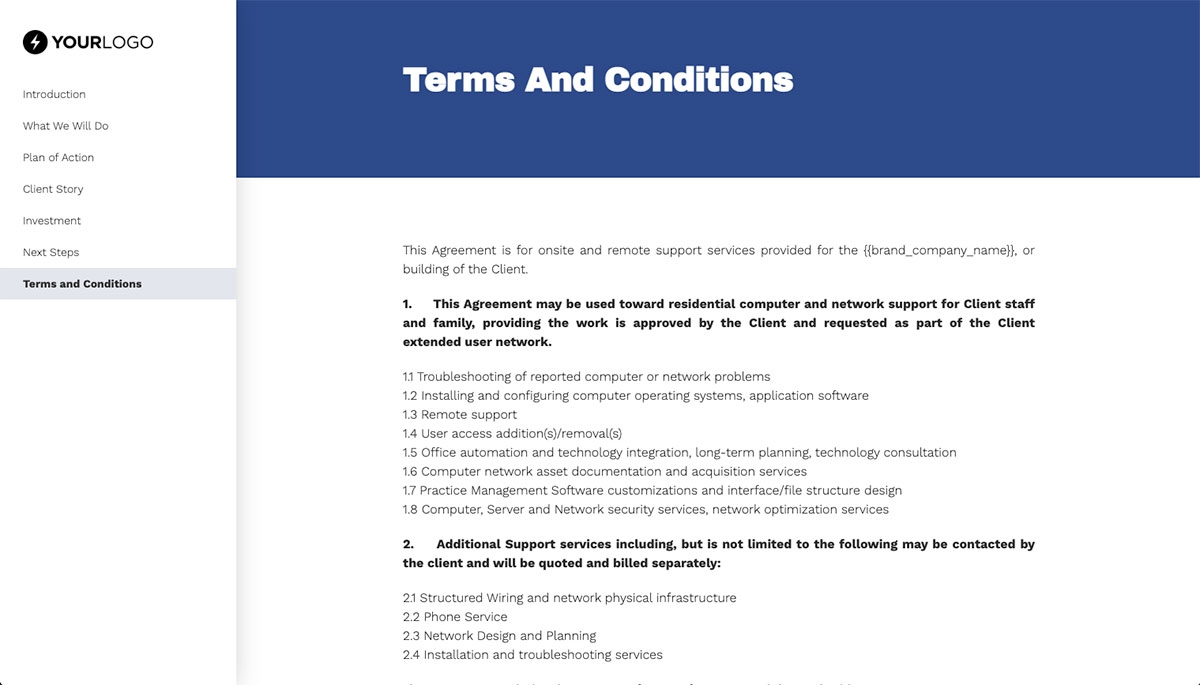 Take Payment from Your Client
Getting paid - it's the hardest thing to do in business. The sooner and the easier you can get that money in your account the better. Using our integrations with Stripe, PayPal and GoCardless you can take payment from your client the moment they sign your proposal and then, if needed, start a subscription.
View Template