EVERYTHING YOU NEED IS INCLUDED
A look at everything in thisTransportation Proposal Template
Visually Attractive Cover
If you were wondering how exactly to start the proposal and catch the client's attention, there is no better way than with a visually attractive cover. No more long cover letters, just use our pre-selected photo or upload your own and start winning businesses! You can change everything, from the text, logo, and background image to make it a better fit for your needs.
View Template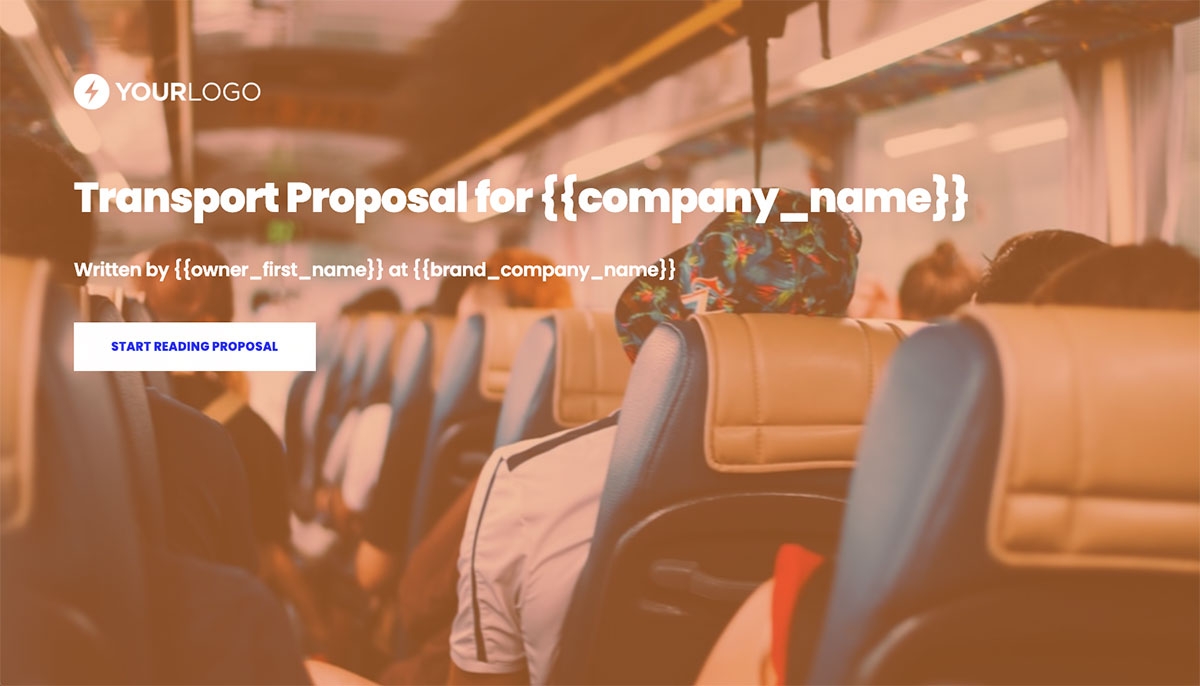 Pre-Written Introduction Section
From small gatherings to big events and festivals, our pre-written introduction section will tell your prospective clients everything they need to know about your transportation services. To make it even easier, the whole section is already structured for you. You just need to personalize it a bit and it's good to go! Like everything else in this proposal, it's completely editable - the colors, the text, images, layout - everything.
View Template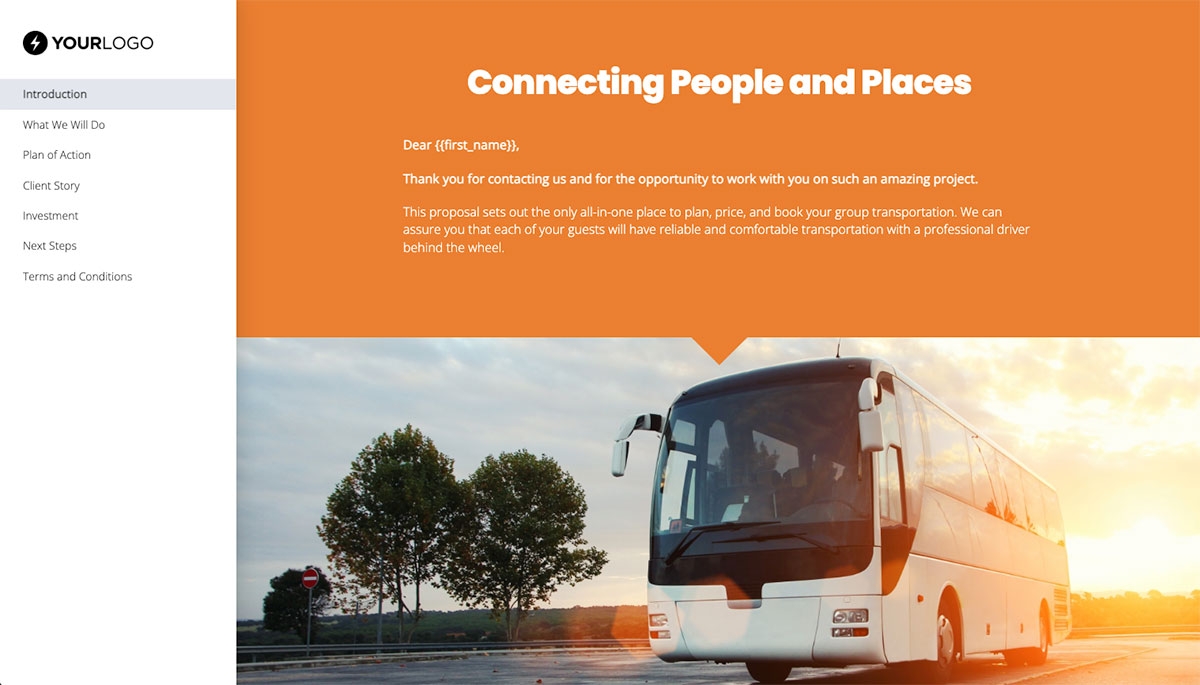 Processes and Timelines
Explaining the logistics behind hired transportation for an event is often difficult. How to give enough information without being overwhelming? Fortunately, we created a plan of action already sectioned to fit the perfect amount of information. You can adjust it to suit your exact process.
View Template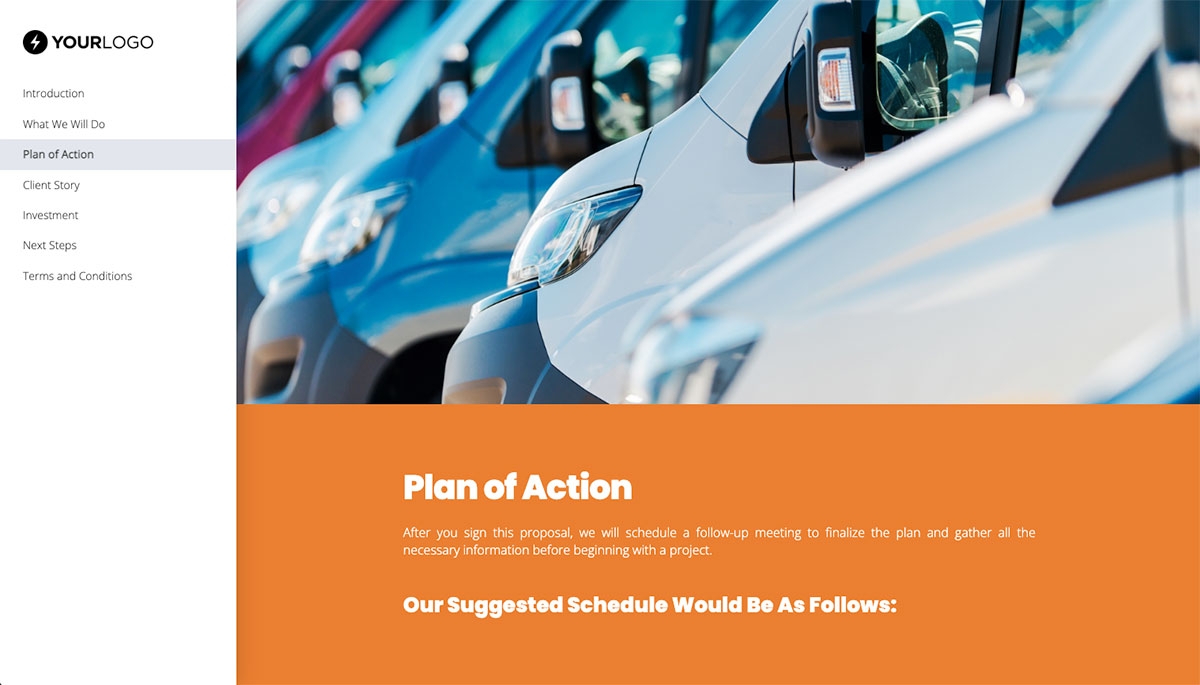 Case Study Example
What better way to explain to your potential client how much of a difference your transportation business will make to their event than to share a similar story? If you want to WOW the specific client, you need to show that you understood their wishes and can offer exactly what they need. In this business proposal template, we've set out an example case study. All you need to do is replace our example with one of yours and use the structure we've used.
View Template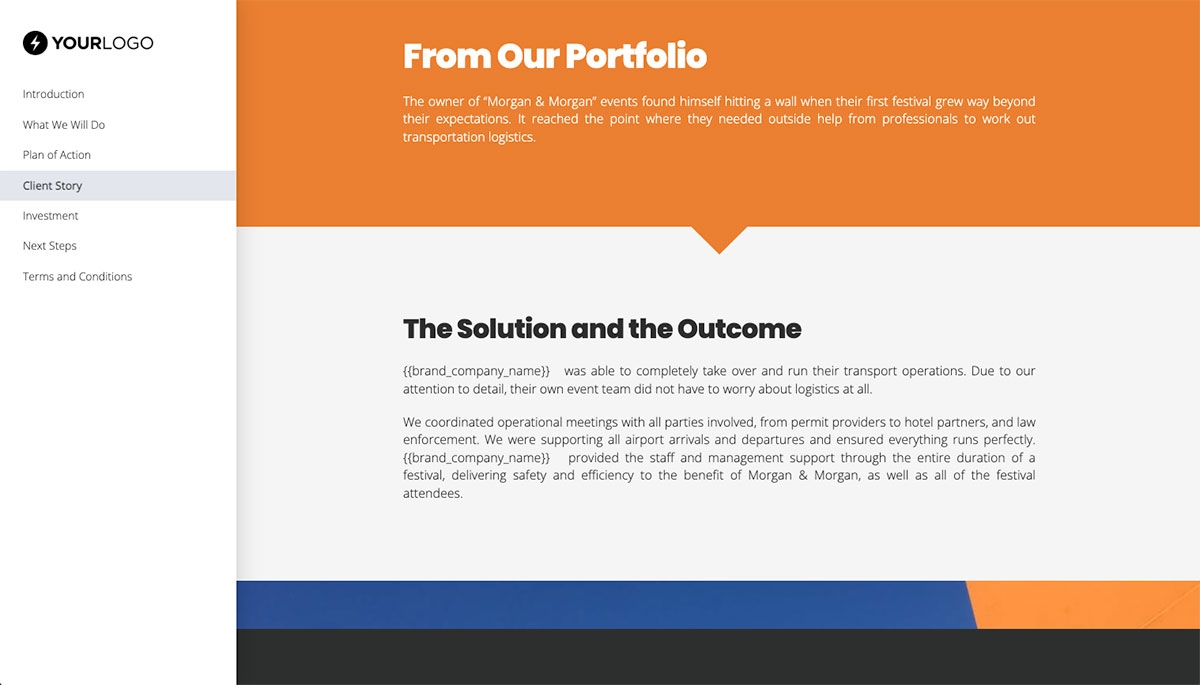 Pricing
Communicating your rates cannot be overstated. Use our quote generator table to assist you in listing your labor rates, bus rentals, and other job costs or services you wish to make transparent to your client.
View Template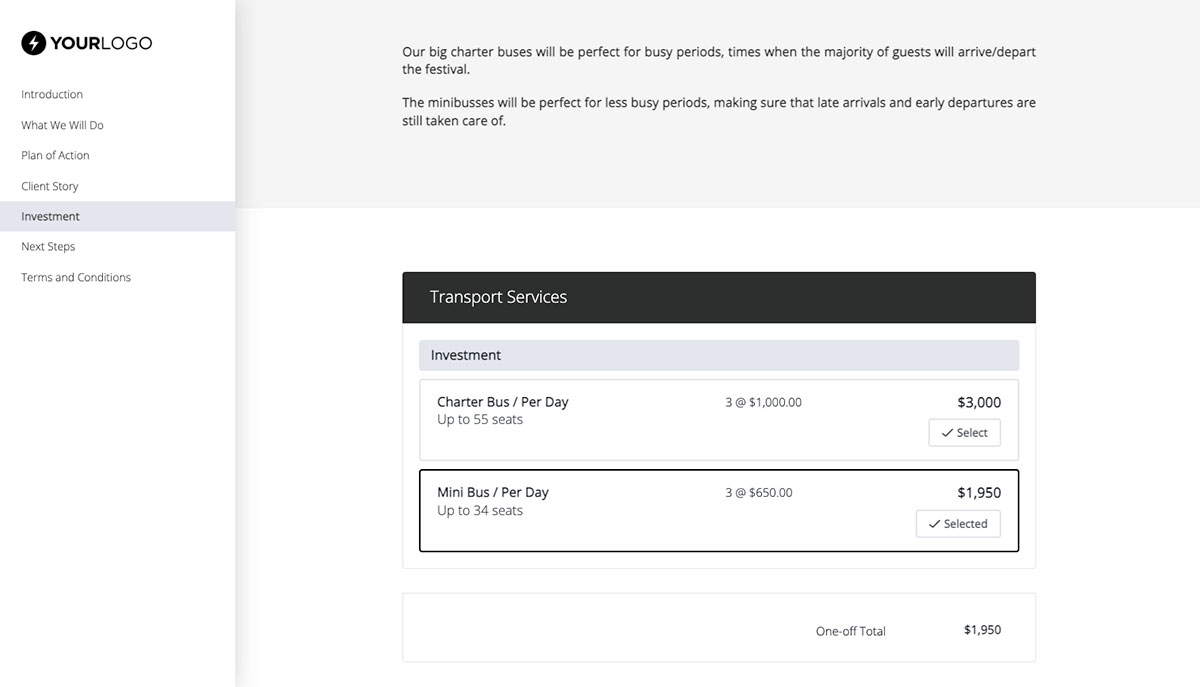 Next Steps with Digital Signing
While customer traffic is essential, a common pitfall is the lack of communication when handling many customers at once. To shed some of this burden, use our 'Next steps' page to explain to your clients exactly what the next steps are and to allow them to digitally sign the proposal right away. All digital signatures are 100% legal and compliant. When your client signs, you can see their digital signature certificate in your Better Proposals account.
View Template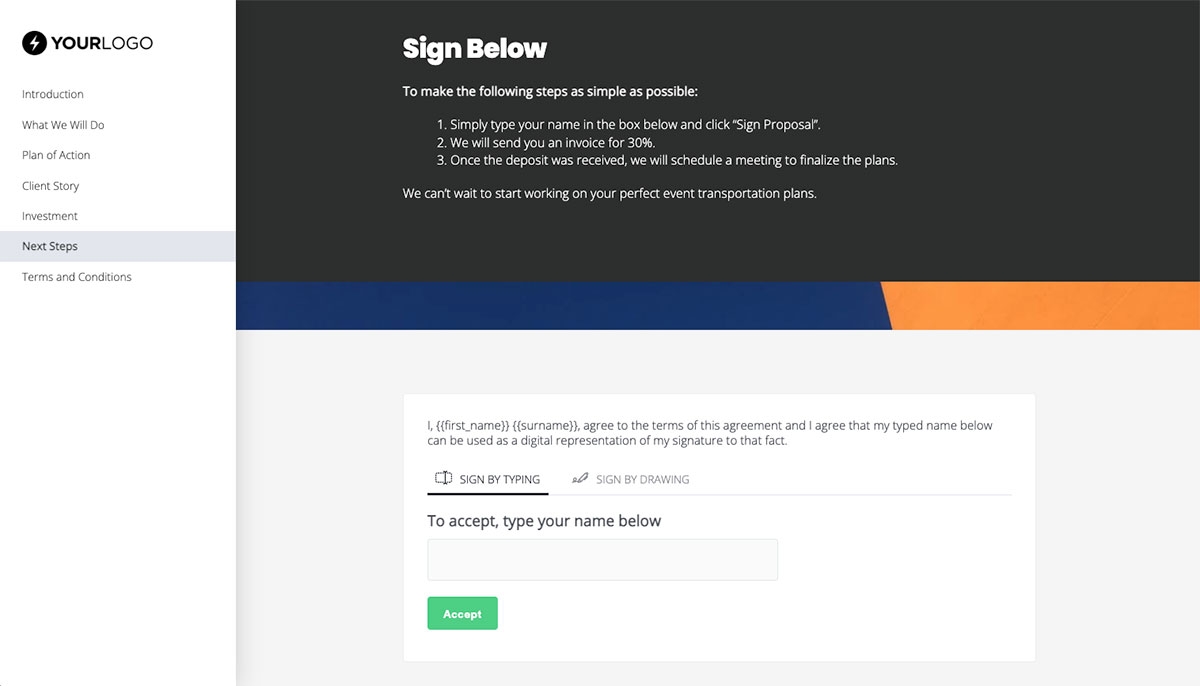 Pre-Written Contract
Every transportation business needs to make sure a contract covers their work, and your company shouldn't be an exception. Our Terms and Conditions page has been written specifically with your services in mind; however, if it doesn't suit you entirely, it is as customizable as the rest of this proposal. We're not legal professionals, but if you don't have any terms written, this will likely be a great start - that said, get a legal professional to read it over.
View Template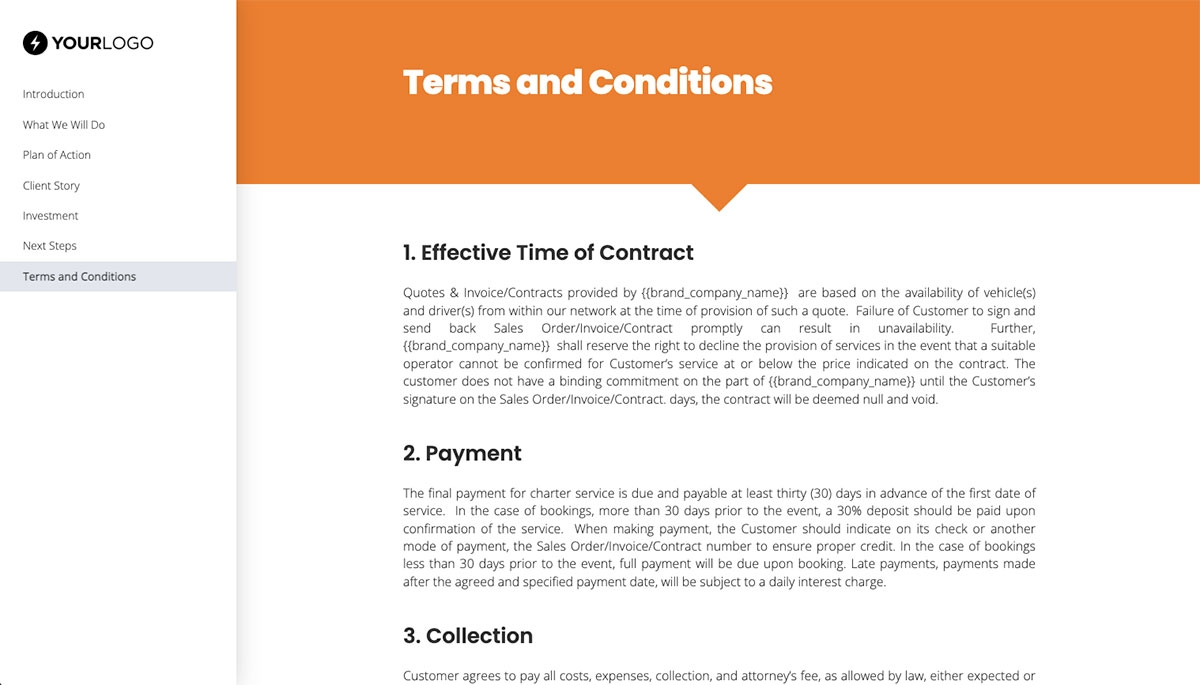 Take Payment from Your Client
Getting paid - it's the hardest thing to do in business. The sooner and the easier you can get that money in your account the better. Using our integrations with Stripe, PayPal, and GoCardless you can take payment from your client the moment they sign your proposal and then, if needed, start a subscription.
View Template