EVERYTHING YOU NEED IS INCLUDED
What's in this responsive web design proposal template
Visually Attractive Cover
To get your web design projects started in the best way possible and leave a good first impression on your potential clients, it is important to use a visually attractive cover. Whether you use one of the images made by our graphic designer or upload your own, it is the first thing your prospective clients see, and it is proven to keep their attention.
View Template

Pre-Written Introduction Section
What is the best way to explain to potential clients that what you're offering is a perfect fit for their needs? Our introduction section is the best way to write a meeting summary, share your design process, and explain to them that you are the one they've been looking for.
Using this proposal software, you will get a pre-written introduction section that is already structured to suit your sales process. Just add a few specifics, and it's ready to be sent out!
View Template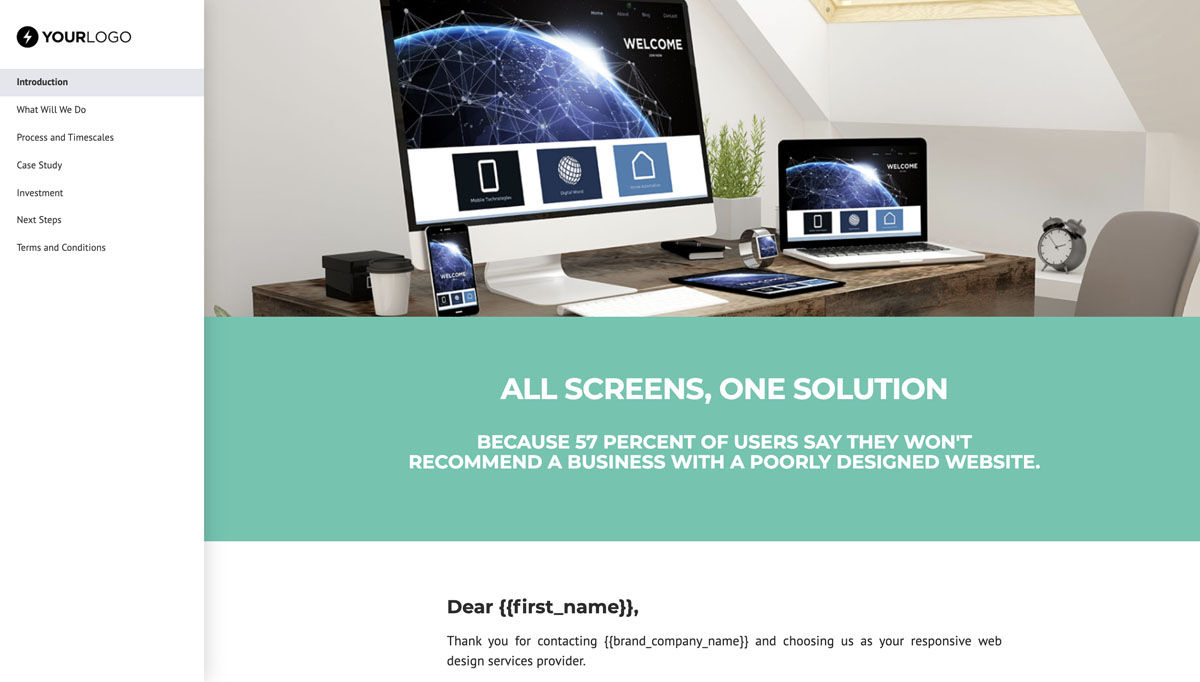 Processes and Timelines
It may be difficult to explain how hiring an external web designer can save time and benefit a company, especially someone not in the industry. Fortunately, the Plan of action section of this proposal template is already made to fit the perfect amount of information. Just adjust it to suit your exact project.
View Template

Case Study Example
The easiest way to be taken seriously by your clients is to mention the customer reviews or examples of your work in your website design proposal. The goal is to show them that you understood their web page wishes, and you came up with a practical solution.
In this template, we've set out an example case study. All you need to do is replace our example with one of yours and use the structure we've used.
View Template

Pricing
Our pricing tables are already set up and ready for your input. Just add the prices per hour or project, and the table will automatically calculate the total amounts for you.
It also allows you to add additional information regarding website design and development and possible upsells such as graphic design, copywriting, or search engine optimization.
View Template

Next Steps with Digital Signing
Nothing is more aggravating than losing a deal you thought was certain. Sadly, this happens time and again when communication becomes poor for any number of reasons. The 'Next steps' page allows for a clear and concise explanation of the steps following the proposal's signing and gives your clients a chance to do it directly!
All digital signatures are 100% legal and compliant. You clients can sign even from their smartphones and tablets, and the digital signature certificate will simply show up in your Better Proposals account.
View Template

Pre-Written Contract
Ensuring your web design services are covered with a contract is a great way to manage client expectations and curb delayed payment issues. We have included all the essential things on the Terms and Conditions page. Still, to ensure they are fully applicable to your company, we would suggest reading them over with a legal professional.
View Template

Get Paid Straight from the Proposal
No more messing around with invoices, no more waiting for checks to clear. This proposal template lets you take payments directly from the proposal, using the integrations with PayPal, Stripe, and GoCardless.
View Template